During his performance,
Ricky Martin
had a touching surprise when his twins appeared on stage without warning. The heartwarming incident was caught on camera and instantly went viral, capturing viewers all over the world. As they saw the precious family moment take place, the audience's response was one of delight and appreciation. Fans were moved by the emotional connection as they saw how close Ricky was to his kids. The popular film went viral online and struck a chord with viewers who understood the importance of family and love.
After announcing his divorce from Jwan Yosef, Ricky Martin enjoyed a memorable moment with his 14-year-old twins at a concert in Switzerland.
When Ricky Martin's twin boys made their debut on stage at a recent performance in Switzerland, they stole the show. Ricky, 51, posted a video of his 14-year-old kids Matteo and Valentino surprising him on stage to his Instagram account on July 17. The "Livin' la Vida Loca" singer was midway through his set when his sons entered the stage and performed for the audience. When the unexpected family collaboration was announced, the crowd went wild, and Ricky joined in the dancing and laughter with his sons.
The performance by Ricky and his sons was referred to as "a beautiful surprise" in the caption of his Instagram photo. Along with a sobbing emoji, he added, "When my twins jumped on stage with me for the first time in Locarno, Switzerland #Matteo y #Valentino." The admirers of Ricky expressed their surprise at how mature his twin sons are in the comments area. Given how long Ricky has been a performer, it's fairly amazing that his sons were finally able to join him on stage in front of all of his admirers.
Early life of Ricky Martin
In the 1980s, Ricky Martin was a member of the Latin boy band Menudo, which launched his career. With the release of his 1999 self-titled album, "Ricky Martin," which featured the number-one hit single "Livin' La Vida Loca," he became a household name on a global scale. He achieved international success thanks in part to his upbeat performances and catchy songs.
Latin pop dominates Martin's music, which also draws inspiration from other genres like rock, dance, and ballads. He has put out a lot of popular albums over his career, including "Vuelve," "Sound Loaded," and "A Quien Quiera Escuchar." He has won numerous honors for his music, including Latin Grammy Awards and Grammy Awards.
Ricky Martin has pursued acting as well as a singing career. He made appearances in both films and television programs.
Twins with Jwan Yosef
In 2008, Ricky had his twins through a surrogate. Son Ren, age 3, and daughter Lucia, age 4, are his other two children with his spouse Jwan Yosef. After six years of marriage, Ricky and Jwan announced their separation on July 6 in a joint statement to People. The former couple began dating in 2016, and on August 29, 2017, they secretly wed.
Who's Jwan Yosef?
Syrian artist Jwan Yosef, who was born in Sweden, rose to prominence for his visual arts work. On September 6, 1984, he was born in Ras al-Ayn, Syria, and his family eventually relocated to Sweden.
Yosef mainly produces figurative and abstract works of art as a painter and sculptor. Bold colors, geometric shapes, and textural materials are frequently used in his artwork. Yosef's work has been displayed in galleries and art fairs all over the world, where it has garnered praise for its distinctive style.
The separation
"We have decided to end our marriage with love, respect, and dignity for our children and honoring what we have experienced as a couple all these wonderful years," Ricky and Jwan stated in their divorce announcement. Our top priority right now is to maintain our love and respect for one another while maintaining a positive family dynamic and a relationship that is based on harmony and friendship.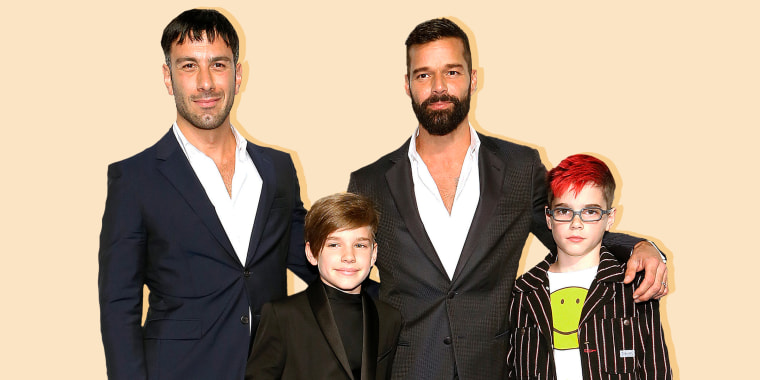 Before performing in Monaco a week after announcing their separation, Ricky spent quality time with his sons by taking them on a boat tour of the harbor. Ricky uploaded a video showing the group biking and swimming in the water without any clothing on. The musician put aside the pain of his divorce to give quality time to his children.